First of its kind electric scooter with iPhone connectivity unveiled in Tokyo
If old fashioned gasoline powered bikes can be replaced by electric ones, why can't the mundane analog dials on the dash be substituted with an iPhone? The cracking idea, believe it or not, was not tested until now. A Japanese start-up called 'Terra Motors' has come up with the world's first electric scooter to have iPhone connectivity which was unveiled in Tokyo today. The bike named 'A4000i' has a bespoke slot where an iPhone can be mounted to function as a proper digital dash. A dedicated app aiding the compatibility can give out information like the bike's remaining charge, odometer, average speed and even navigational assistance. The info can also be uploaded to a cloud-database for the company to provide added services and assistance. The electric scooter is compatible with all the iPhones available in the market currently.


The bike is powered by a removable lithium-ion battery (1920VaH) which gives it a respectable range of 65Km on a full charge. The company plans to sell more than 2000 units of A4000i with emphasis on emerging markets and South East Asia. Production will start from December this year in Vietnam which itself is a huge market for two-wheelers. The bike is priced at about ¥450,000 (US$4562) including the charger. Terra Motors also plans to sell scooters without the iPhone connectivity named "A4000" at a cheaper price. Give it social media integration and the package will be pretty much complete.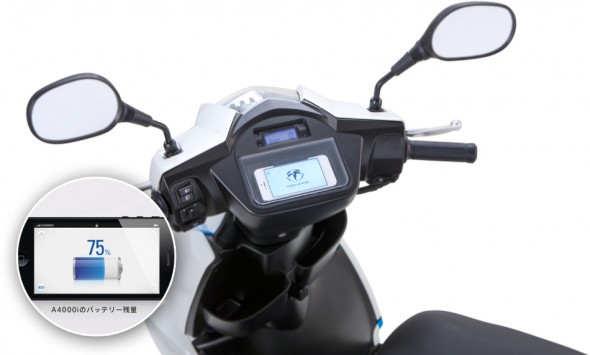 [Terra-Motors Via Itmedia]
---
---
---