iHealth Bluetooth scale weighs you and reveals it on iPhone or iPad
You may have come across many health-related iOS accessories and adding to the list, Wind Tech in Japan has introduced the iOS compatible Bluetooth enabled body scale they call the iHealth scale. The scale uses any iOS 4.0 and upwards compatible free apps to connect through Bluetooth to converse with the iPhone and iPad. The scale powered by four AAA batteries has a sleek slab-design with a small LCD screen to display the body parameters. The iHealth scale can be used to monitor weight, height and change in weight each day along with the calories burned. The data can be transferred to the iPhone or iPad which you can use to email or post on your social profile to impress your peers with your routine.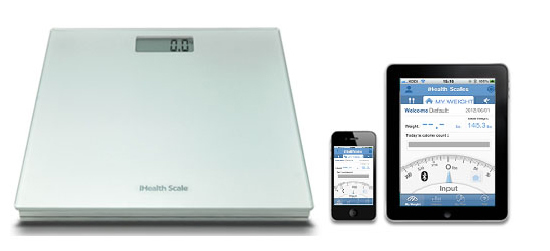 Measuring 330 Height × 330 Depth × 40mm height, the 2.4kg weighing scale is a bargain amid the other high priced weighing scales at 7,980 yen [approx. $100]. So, if you own an Apple's mobile device and are concerned about your weight and structure, then take home the iHealth scale to keep yourself fit and healthy in a very interactive way.