Logitech Revue set top box for Google TV is finally announced, pricey add-ons required

Google TV is all over the web space these days. We just covered Sony's Family of supported TV's (link to previous article) and now their partner Logitech, has announced the very first, official Google TV product i.e. the Logitech Revue set top box. It's a neat little 'black box' that's the go-between for your cable/satellite box and your TV. Naturally in this HD age it gets hooked up via HDMI and is connected to the net via Ethernet, but it also supports Wi-Fi, if that's your preference. It can be connected to a wireless keyboard that runs Logitech Harmony software and of course we can expect to see controller apps for your mobile handset later on as well. With this set up, you'll be able to search for video or other content online with Chrome. You'll also have the option of watching streaming video on your mobile and switching it over to your TV with a single press of a button.

Other features of the Logitech Revue include video calling via an app called Vid HD from Logitech. To use this app though, you'll have to buy the exclusive camera that goes with it, guess who makes this camera? Yup, it's Logitech. Unfortunately Hulu fans will have to take a hit as this is still a service in progress so an app for the Revue just might be available a little later down the line. This system isn't cheap, just the Revue box will set you back $300 while the keyboard controller is $100 more with the smaller version priced at $130. If you want video calling, the camera comes with a price tag of $150. So that runs you up to about $550 or $580 depending on the controller. Let's not forget the price of the TV as well. It should be out by the end of the month so start saving. Maybe there'll be cheaper options if we wait awhile after it goes live, you never know.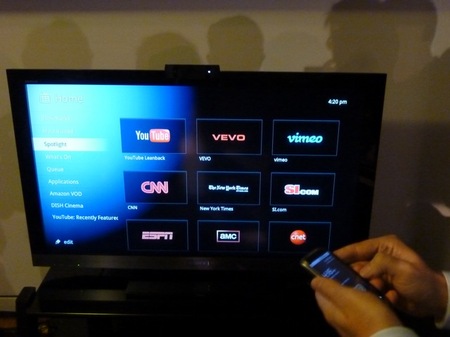 [Dvice]