Singapore Airlines flight SQ380 is the first commercial Airbus A380 to fly passengers

Singapore Airlines flight SQ380, from Singapore to Sydney was the first commercial flight of the Airbus A380. The buzz around the flight has ensured that its operation was a much-publicized event. "The flight was spectacular, just truly awesome," said Thomas Lee, when reached by cell phone as the plane pulled into the gate at Sydney Airport, (as told to the International Herald Tribune) "I'm thrilled beyond words actually. Just extremely excited. On a scale of 1 to 10, I'd put it at 12." Lee's word is worth reckoning because he was aboard the first commercial flight of the 747, in 1970, and now was on the first A380 passenger flight as well. The A380 offers 50 percent more floor space than a 747, and can carry as many as 853 people.

Singapore Airlines flight SQ380 flight had paying customers but it still wasn't a regularly scheduled flight. Regular A380 flights won't start until later this week. This flight consisted mainly of people who bought their tickets on eBay, with proceeds going to charity.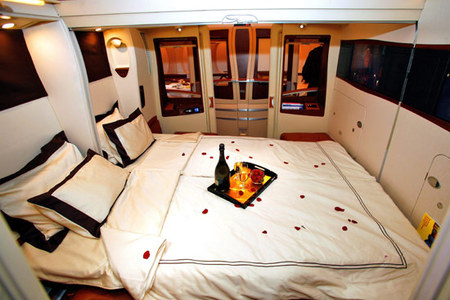 Source