Tanita electronic weighing scales come with SD card slot and PC software, measures more than just your weight

Now here's a possibly handy little gadget to have at home for the health conscious, the new Tanita weighing scale that comes with a built in memory card slot for SD cards. Why? Because it stores your information on the card that can be a later transferred to your PC. It doesn't just measure the users weight but with its body constitution meter (an industry first) it keeps tabs on your body fat ratio and internal age. The scale also comes with its own software for the PC that updates your information when the card is plugged in. It offers graphs as well as numerical values of all your data. It also has a system that allows for guests to use it without saving their data.

The new scales are available in two models – the 50g unit called the BC-309 is approximately 18,000 Yen which is about $200(USD), and then there's the BC-569 which is the 100g unit that's priced at approximately 13,000 Yen that comes up to about $145 (USD). Of course this is no ordinary bathroom scale and to be honest I don't think I'd want to know this much information unless I'm seriously worried about my health, in which case it's sounds like a good buy.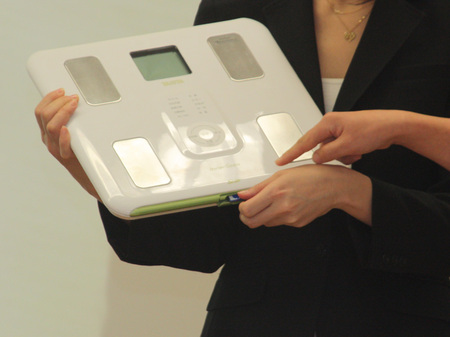 [Impress]
---
---
---